We're here to help!
Gone are the days of searching through dog-eared catalogs or trying to make sense of complicated product websites.
We do the work for you! We've taken only the very best and most current products and placed them in easy-to-use categories designed for your needs. Take a look at our selection - quality products at excellent prices.
We know you don't have time to waste; so we've cut to the chase and made it simple! But keep in mind, we do have access to over a million products - so if you don't see what you're looking for or have a special theme or request, let us know - we'll find it!
Featured Item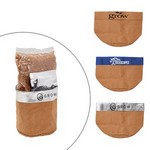 Eco-Grow Bag
Waterproof kraft style grow bag with vermiculite soil and your choice of sunflower, forget-me-nots or clover seeds. Typical germination time ranges from 2-3 weeks (time may vary). 5" W x 3.5" H
$3.49 - $3.99
What Our Customers Are Saying

"In today's online world, where the human touch has been removed from business transactions, I'm happy to say that I enjoy an unmatched level of service and reliability from Litza and Graphic Promotio...
Richard Withrow
Mailrite Print & Mail, Inc.